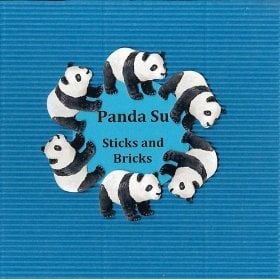 £

4.00 - On Sale
Debut EP from Panda Su.
Released 2009.
Tracklisting;
Eric is Dead
Pot Kettle Black
Moviegoer
My Sorry Little Heart
Eric is Dead (Jonnie Common remix)
'...this debut EP confirms Su and her cohorts as one of the most promising new bands around at the moment. The four songs on this recording are beguiling and haunting, catchy and unsettling in almost equal measures with an uncanny knack of worming their way into your psyche'
Is This Music?
'Panda Su's debut EP 'Sticks And Bricks' is something that I and many have been waiting for. Panda Su takes her very self and illustrates it in her music like the vein charged maps of the world. All you have to do is take yourself on your own journey and you will find something in her music that will help you reach somewhere worthwhile'
Glasgow Podcart